I actually received my Sample Society box earlier in the month, but I had already ripped through it and thrown out the packaging before I started really blogging on here.
I will tell you a bit about what I received in my box this month though.
The first product is the
Immunocologie Treatment Creme VenoMax
this
moisturizer is capital A-mazing!
Here is what this little baby does:
Helps smooth fine lines and wrinkles

Ideal for day and night use

Defends against chronic inflammation

Rich, luxurious treatment

Brightens the complexion

Evens skin tone
It really does do everything it says it will and I am in love. It is rather pricey, but my goodness is it worth every penny!
I also received
Oscar Blandi Hair Lift Mousse. I do not usually use mousse, but I do enjoy other Oscar Blandi products and would expect the same quality from this. I have used mousse in the past and would probably use this maybe before a night out to give my hair extra plumpness.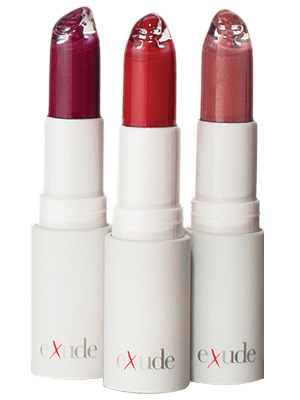 In my box was also
Exude Lipstick Gloss in Dusty Pink. I cannot express enough how much I love this product. I love that it is in a pseudo lipstick shaped applicator because it just feels so chic. The formula is creamy and goes on with just a bit of pink color. It does tingle when it goes on which is rather nice and the scent is not overpowering. I have been using this one since I received it and am very happy with it.
I have not had a chance to use the
LaRocca Skincare Hibiscus Cream Cleanser with AHA that I received. I am very picky about cleansers and really any sort of face washes as my skin is sensitive. This one seems like it would be okay from the bit I swatched to see how my skin would react. It seems like it would work well so I will give this one a go at some point.
I have tried the
Maya Water Facial Mist Organic Goji and I will be honest when I say that a facial mist is a foreign concept to me. It just reminds me of those water bottles with fans attached to them we'd use in Disney on hot days. I know I know this is different because it's made with Norwegian water. Color me confused. I have heard loads of beauty bloggers and celebs alike touting the greatness of water facial mists and maybe I just need to try it out more, but so far I am not all that impressed.
disclaimer: I am not sponsored by any of the company's whose products I am reviewing here. All thoughts/comments/whathaveyou are my own.